***NOTICE: we have an updated site:, pls visit Fbrcog.wordpress.org
Welcome to our churchs' website, You're all welcome in Jesus Name ,This is where Jesus reigns, Jesus is the center of everything here in our Ministry , you can make him the center of your life today. Our website is designed to reach out to lost souls in need of salvation and prayers which will change their lives forever. it reache's out to Christians who need the touch of God in their lives and in their faith. Our website is built to communicate with members of our ministry and to keep them informed of developments and them in tune with God, its also built to attract a broader audience and reach out to Millions of people around the globe. We'll use this site to get the word out on our Ministry and create a better way of communication among our members,Christians worldwide and those in need of Salvation. We are here to reach out to you in different ways, If you need help, this is the right place you've come to, Jesus loves you and he cherishes you alot, he has so much in stock for you, Only if you come over and accept him into your life as your personal Lord and Saviour,

Our ministry deals in counselling and deliverance, which covers different aspects of your life and also your walk with God and your faith in Christ . If this applies to you or you are in need of help, do not hesitate to contact us .
Feel free to send in your prayer requests, and questions
Also learn at the feet of Jesus daily and on Sundays .
Through the man of God, President and Founder of Church of God pillar and Ground of Truth Ministries and First Born Redemption Church of God Ministries.
Apostle Paul Oluwasegun (President & Founder)
Sunday School 10:00am -11.00 am
Sunday Praise and Worship 11:00am -11.45am
Sunday Sermon 11:50 - 1.30pm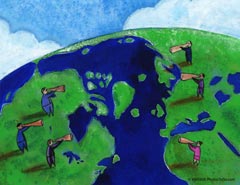 Ministry News: We are currently working on this website to add more information about our ministry and different aspects our Ministry focuses and deals with.
Expect to see a better designed website, and upgraded website in a few months to come, reaching out to Millions of people around the world.
You'll never remain the Same again, Once you have a first touch of God through Our Ministry.
Remain Blessed in Jesus Name.
News Editor : Joel .O